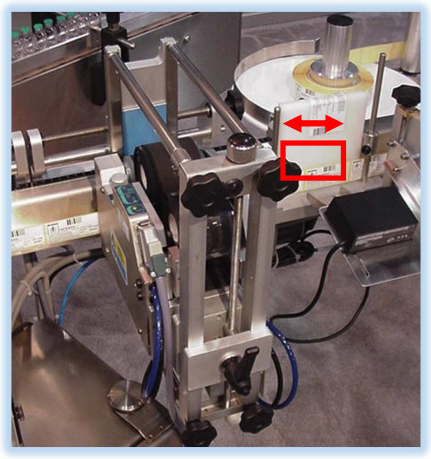 Issue: Print position on label is not consistent.
Likely causes: Glue residue, Web tensioner set point, label wind tension, label feed roller adjustment, wrong label drives for label materials, label sensor settings, container sensor adjustment, or label speed.
Suggestions: Clean glue from the machine and conveyor frequently. Review the label tension settings. Check the label drive cleanliness, functionality and gap/grip.
As possible, use consistent label materials and thicknesses. We suggest paper labels with paper backing. Changing label materials can require operators to have better machine knowledge and a higher skill level due to the additional settings requirements.
If using the same label materials is not an option then you should conduct detailed reviews of your written procedures. SOP's can be difficult to write such that they accurately define some of the "fine tuning" requirements necessary to migrate between a variety of label materials. Use plenty of pictures and work through the procedures several times to make sure your new operators can perform the change-over without much additional support.
Also, make sure your vendors dye cuts are accurate.
Label Luminescence should be close to 30% on the Lumilux scale.
Maintaining label material consistency will improve production efficiency!
Need additional Help?
Contact us with the below information and we can schedule a virtual service troubleshooting call. Service charges for equipment out of warranty apply. $100.00 for first hour, 85.00 per hour thereafter. Field service is also available.
What Machine model?
Serial # of machine?
Order Date?
Vial Size?
Approximate operating speed of machine in containers per minute?
What label web material, paper or plastic?
What type of label, clear or opaque?
What label sensor (make)?