Environmental Specialties' popular Low Temp Walk-In Suite (LTW) utilizes an innovative chamber-within-a-chamber design to support the stringent biorepository and pharmaceutical requirements for ultra-cold temperature storage freezer vaults. It offers a more energy efficient alternative to the traditional "freezer farm" approach, while still delivering maximum capacity, multi-temperature storage flexibility, and product protection.
Each suite is custom designed to your explicit size, temperature, and electrical-controls specifications. Additionally, the LTW utilizes multi-door vaults that are capable of temperature setpoints of -60, -70, -75, or -80°C— located within -20 to -40ºC freezer corridors—that are designed to share a central cascade refrigeration system.
This suite is ideal for biopharma production and biorepository applications. With flexibility of product storage containers, including bottles, plates, small vials, bulk drums, and canisters, the LTW offers multi-temperature storage for a wide variety of products, including samples of drugs and various biological products.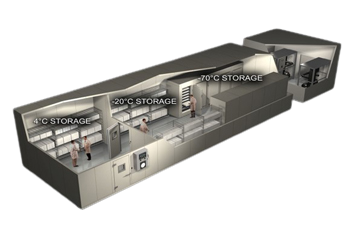 Our ultra-low LTW freezer suite offers a significantly lower chamber count and as much as a 33% reduction in building space when compared to a "freezer farm".
Saving hundreds of thousands of both kWh and pounds of CO2 emitted annually, the BES solution can offer a 75% reduction in total energy consumption.
The result is an economical, space-saving product line that combines maximum capacity, multi-temperature uniformity with energy efficiency and cost savings.
Environmental Specialties' low-temperature freezers give you high-performance operation, significant cost savings, and greater dependability than ever before.
Contact us to learn more.